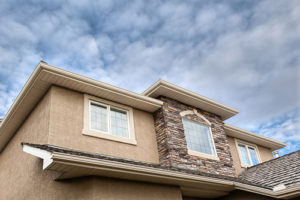 Are you or someone trying to sell a Stucco home? Many people have been delayed in their selling process by the hidden problems that arise from a stucco styled home. Although stucco is noted for its energy conserving properties, the installation process is complicated.
If not done properly, issues such as those listed below can arise in the future and cause problems in your home, diminishing its value. Glick's Exteriors offers Stucco Remediation services, and will be happy to convert your stucco into top quality siding.
3 Stucco Issues
Most stucco issues result from water damage caused by rainfall.

Cracking
Deep cracks in your stucco siding can cause serious problems if moisture seeps into the walls of your home. Although cracking can be caused by other factors such as workmanship and age of the home, it brings more worry of water damage. Sometimes it can be tricky to tell if your home has been affected by deep stucco cracks. Having an alternative material such as siding can avoid this worry altogether.
Staining
If stucco goes untreated, rainfall can have a toll on the appearance of your stucco home causing unpleasant stains to appear. Stucco is maintained best when it is protected from water, which can be a difficult task to accomplish. Gutters and windows can have the right positioning; however, you can't control the direction the wind is blowing the rain. The outside of your home is most likely to get wet from rain at some point.
Mold
Because most of these issues are water related, mold inevitably becomes another issue. Mold build-up cannot only harm your home, but also take a toll on the health of you and your family. Stucco maintenance is something that needs close attention to ensure the preservation of your home.
Glick's Exteriors Stucco Remediation services will ensure the safety of you and your home and happily resolve any stucco problems! Call today to resolve your stucco issues with the region's most trusted exterior company 610-810-1290.